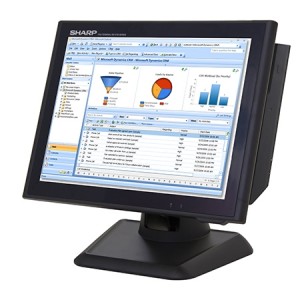 The Sharp RZ-X730F PCPOS terminal is an affordable and reliable PC based system offering strong performance.   The large and bright 15″ colour LCD screen sits on a small and compact chassis, making it ideal for outlets where space is limited. The upright stand also enables all cables to be neatly stored inside, allowing a tidy counter top appearance. The RZ-X730F brilliant 15-inch TFT colour LCD touch-screen display offers exceptional clarity, wide viewing angle, adjustable in horizontal and vertical direction for maximum viewing ease. and is IP66 rated (screen only) The RZ-X730F features a fanless architecture and is equipped with a high performance Intel (R) Pineview D525 dual core processor, powerful system I/O ports and 2 Gb of memory. The RZ-X730F is the reliable solution for businesses looking for operational efficiency and quality in a compact design. Combining the latest technology with Microsoft Windows R Embedded POS Ready 7 operating system pre-installed, the RZ-X730F gives you the flexibility you require to meet todays challenges in the retail and hospitality environment. The RZ-X730F ships with a free trial version of the Starrt-Now PCPOS program by Starrtec.
Key features:
Bright and clear IP66 rated edgeless 15″ TFT Colour LCD Touch screen
Powerful Intel Pineview D525 Dual Core CPU 2 GB of Ram and 320 GB 2.5″ SATA Harddisk drive
Compact footprint, ideal for many hospitality and retail environments Wall mountable using VESA standard mounting hole placement
Adjustable screen angle in horizontal and vertical direction
Large number of I/O ports for connectivity including USB, network, serial and cash drawer ports
Fanless architecture
Magnetic Card Reader fitted standard and optional RZX6DP2 Customer LCD display.
VGA port for additional monitor
Spill-proof and powerful 1.8GHz Intel Atom D525 dual core

 2GB (max 4GB) DDR3 RAM

 320GB HDD 2.5" SATA2

 Flexible and scaleable with 4 USB ports (1 powered) & 4 x RS232

 Bright 250cd LED backlit 15" touch screen

 Flexible movable screen angles to suit most working environments

 Optional 10.4" colour LCD or 2 line customer display, mag. card reader

 IP66 Dust / Water protection on front screen
| | |
| --- | --- |
| | |
| RZ-X6DP2 | Customer LCD Display |
| ER-03DWB4 | 4-note / 8-compartment cash drawer (black) |
| ER-05DWB5 | 5-note / 8-compartment cash drawer (black) |
| | |
| ER-58CC | Coin case insert for ER-05DWB5 |