RZ-X655
Fanless modular retail and fast food POS system
Large 38 cm colour touch screen
Compact and popular design
Adjustable left/right and up/down LCD touch screen with LED backlight
SATA 2.5″ HDD 320GB standard
10/100/1000Mbps Fast Ethernet connection
Wake-on LAN support including remote booting
WIN Embedded POSREADY 7 Operating system pre-installed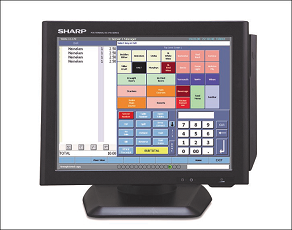 The Sharp RZ-X655 PCPOS terminal is an affordable and reliable PC based system offering strong performance.   The large and bright 15″ colour LCD screen sits on a small and compact chassis, making it ideal for outlets where space is limited. The upright stand also enables all cables to be neatly stored inside, allowing a tidy counter top appearance. The RZ-X655 brilliant 15-inch TFT colour LCD touch-screen display offers exceptional clarity, wide viewing angle, adjustable in horizontal and vertical direction for maximum viewing ease. and is IP66 rated (screen only) The RZ-X730F features a fanless architecture and is equipped with a high performance Intel (R) Pineview D525 dual core processor, powerful system I/O ports and 2 Gb of memory. The RZ-X655 is the reliable solution for businesses looking for operational efficiency and quality in a compact design. Combining the latest technology with Microsoft Windows R Embedded POS Ready 7 operating system pre-installed, the RZ-X655 gives you the flexibility you require to meet todays challenges in the retail and hospitality environment. The RZ-X655 ships with a free trial version of the Starrt-Now PCPOS program by Starrtec.
Speed and performance is a requirement for the convenience or retail market environment. The RZ-X655 boast a fast and efficient processor. Small and mid size companies must be highly flexible to survive in their daily business against larger companies. The flexible PC-based POS terminal RZ-X655 offers a lot of opportunities, as it allows to install specific application software dedicated to the market segments.
Apart from this, the RZ-X655 can be upgraded to an overall sophisticated system. This, due to the availibility of several interfaces to connect different printers, a 26 cm colour LCD customer display, magnet card reader, Dallas clerk key system etc.
Not only visually, but also from the daily work and efficiency standpoint the RZ-X655 is perfectly designed. The terminal can be placed directly on the checkout desk or installed at the wall. Thanks to its fanless technology the RZ-X655 reduces energy cost to a significant low level.
Key features:
Bright and clear IP66 rated edgeless 15″ TFT Colour LCD Touch screen
Powerful Intel Pineview D525 Dual Core CPU 2 GB of Ram and 320 GB 2.5″ SATA Harddisk drive
Compact footprint, ideal for many hospitality and retail environments Wall mountable using VESA standard mounting hole placement
Adjustable screen angle in horizontal and vertical direction
Large number of I/O ports for connectivity including USB, network, serial and cash drawer ports
Fanless architecture
Magnetic Card Reader fitted standard and optional RZX6DP2 Customer LCD display.
VGA port for additional monitor
Compact and upright design 1.8GHz Intel Atom D525

 2GB (max 4GB) DDR3 RAM

 320GB HDD 2.5" SATA2

 Flexible and scaleable with 4 USB ports and 4 x RS232

 Bright 250cd LED backlit 15" touch screen

 Optional 10.4" colour LCD or 2 line customer display, mag. card reader

 Flexible movable screen angles to suit most working environments

 VESA mounting support

 Fanless means no moving parts.

RZ-X6DP2
Customer LCD Display
ER-03DWB4
4-note / 8-compartment cash drawer (black)
ER-05DWB5
5-note / 8-compartment cash drawer (black)
ER-58CC
 Coin case insert for ER-05DWB5